Pride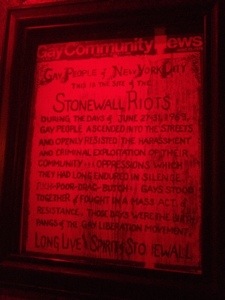 This weekend marks the anniversary of the Stonewall Riots in New York City in 1969, when gay men and women in the Stonewall Inn on Christopher Street rioted against the police who made regular raids on the bar. This sparked a multi-day marching demonstration against the oppression of gay people in America and is the reason why the Pride Parade takes place every year, despite the gross commercialization of the event today.
Me, I'm a "late gay". I didn't come out until my late twenties. But more to the point, I don't derive a lot of fun from going to mainstream clubs–gay or straight. When I looked at the schedule for Pride weekend in NYC, I had the options of a club, another club, a rooftop club, a pool party club, a club party on Governor's island, a club part on the Chelsea piers, the Parade and more clubs. The word "club" has now stopped looking like the word "club". So, despite wanting to celebrate what I consider to be an important anniversary of the civil movement of MY time, I really didn't think I had a lot of options. This got me to thinking about what Pride means to me.
Pride is important because it represents the right and the freedom to be who you are; and who you want to be. Being allowed to have sex with whichever gender you want is really only a small (but integral) part of it. And here's the thing: You get to decide who you are (or accept who you are, whichever has a better ring to it) and more importantly, who you want to be.
Gay people come in all shapes and sizes. They come in all colours and beliefs. They come just as diverse as the the 'rest' of the world. The freedom to have your relationships legitimately acknowledged seeps into every aspect of your life because by extension, it means the you are truly free to walk your own path.
So I decided the way I would celebrate Pride this weekend would be hit the gym hard on Saturday (because let's face it, the gym is the closest thing gays have to a "church") and to have a beer with friends at the Stonewall Inn to commemorate those who came before me to make my life possible. Today, I'm at the Brazilian Jiu-Jitsu club training and then going to the Parade because seeing a bunch of hot guys walk down 5th Ave is…well, kinda like most days in NYC, except most of them will be shirtless. I'm writing this blog entry because I realized that unless people read my Twitter bio, most people probably don't know that I'm gay; and if I'm not willing to be silent on smaller issues like how a lot of fitness crap doesn't actually work or matter, I shouldn't be silent on something that's far more integral.
I celebrate Pride in my own way, on my terms. The Pride schedule informs, but doesn't dictate my decisions.
Now take "Pride", "Gay" and replace them with "fitness"; and the word "club" with "gym", "Crossfit", "cardio" or any fitness "method" that you've read about but might not readily identify with.
Your body and your fitness is your own. Celebrate it in your own way and your own terms. You get to decide who you are and who you want to be. We're here to inform, but not dictate your decisions.